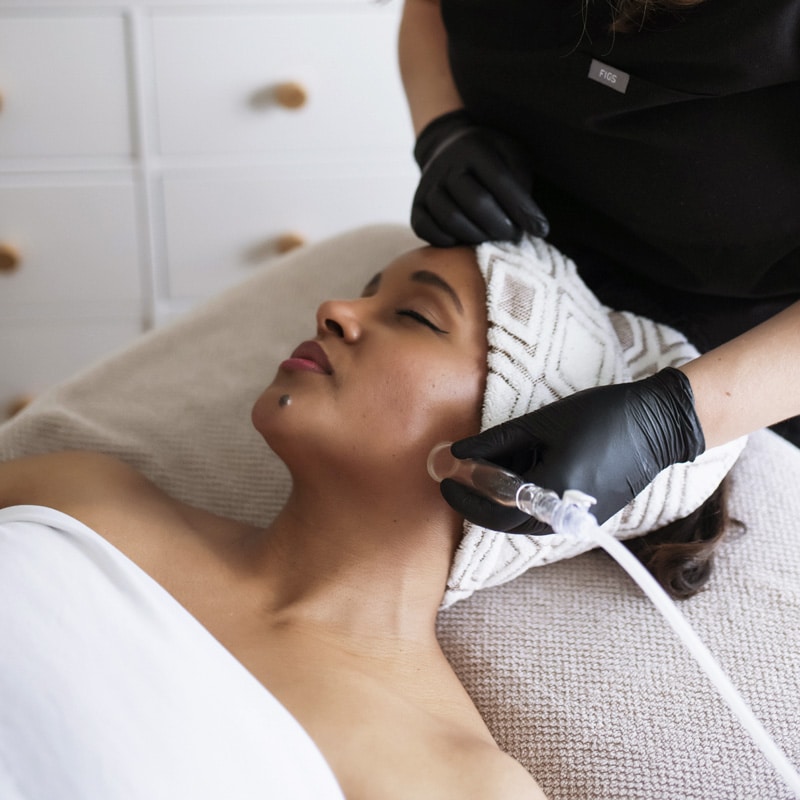 The next-level facial
Cleansing HydraFacials in Olympia, WA
Seasons change, and so does our skin. Just as the cherry blossom tree outside sheds its colors when the weather fades, our skin creases, thins, and changes as we age. Blossom Spa Retreat believes everyone deserves gorgeous, glowing skin, and that starts with a HydraFacial. Trust this comprehensive resurfacing facial to reduce the appearance of fine lines and wrinkles, diminish oily and congested skin, and so much more! Embrace the glow and get started today.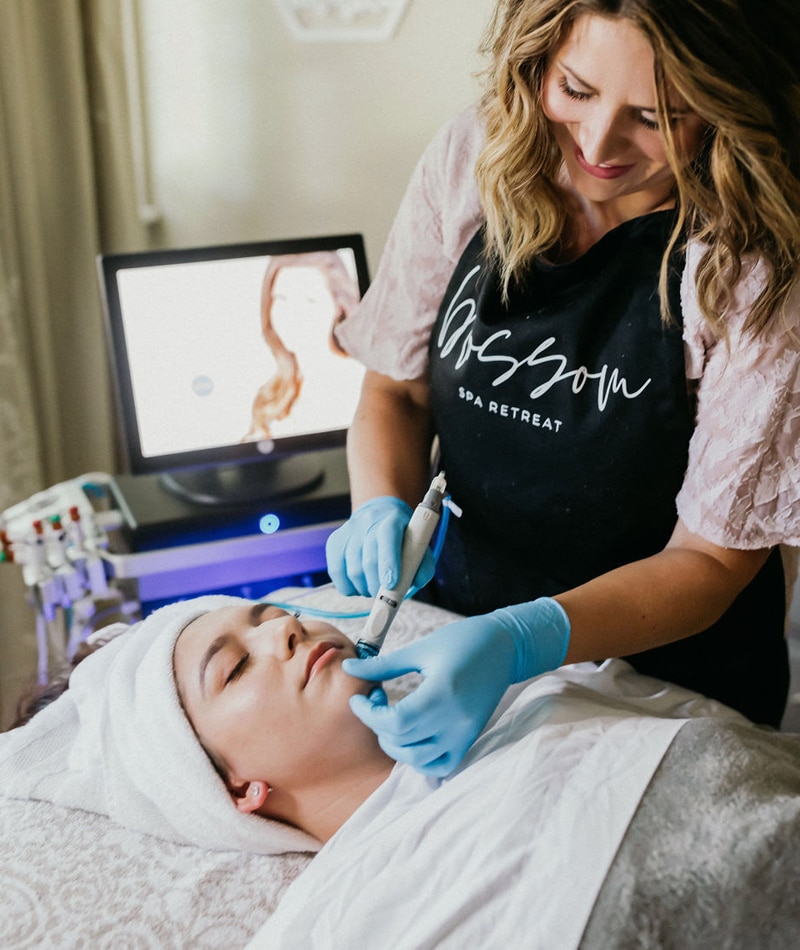 How the HydraFacial Works
Acting as a more complex treatment, HydraFacials penetrate deeper and more accurately than the average facial. With patented technology, the HydraFacial creates unparalleled skin resurfacing results in an easy, non-invasive three-step process—cleanse, extract, hydrate.
During the cleansing phase, an abrasive HydroPeel applicator scours dead skin cells and exfoliates your pores, preparing your face for extraction. A powerful suction attachment is then used to easily dislodge and remove oil, toxins, and other impurities, unclogging your pores for a more fresh-faced complexion. Finally, we'll add nutrients and moisturizers with potent antioxidants to your face to seal in the hydration and soothe your skin.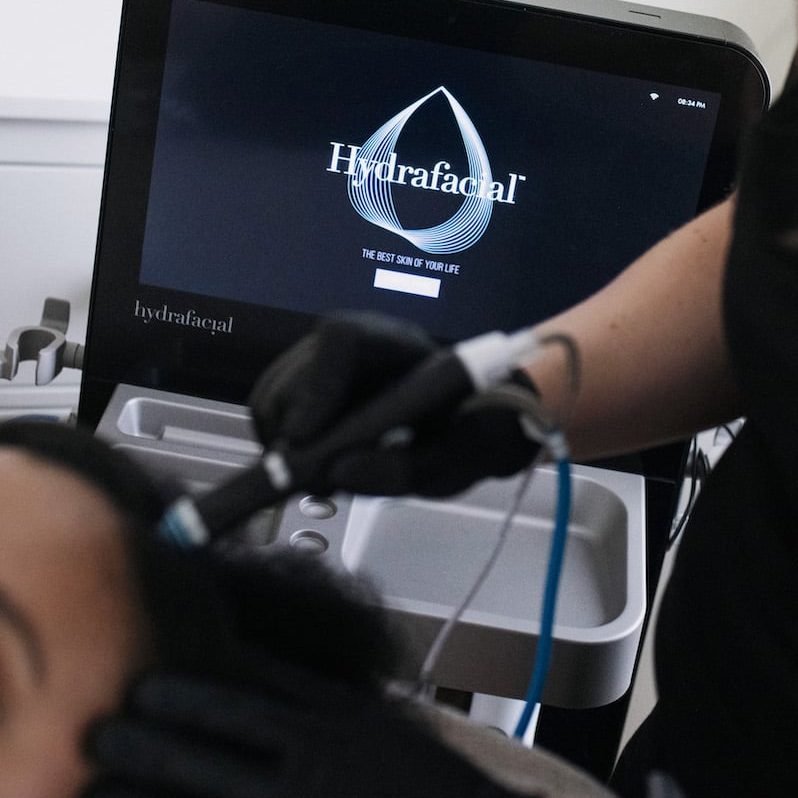 Designed For More Than Just Your Face
At Blossom Spa Retreat, we understand that congested skin and wrinkles aren't limited to your forehead, cheeks, and chin. Excessive sweating, overexposure to the sun, and aging can take their toll on various parts of your body, including the back, lips, and eyes. For this reason, we offer unique HydraFacial treatments to treat all skin types in all areas.
Experience our Back Clarifying HydraFacial to rid yourself of acne and blackheads, or increase your facial features with a HydraFacial Lip and Eye Perk. This three-in-one treatment will have you feeling refreshed, rejuvenated, and like an overall new person. Love the person staring back at you in the mirror each morning by booking your next HydraFacial appointment with Blossom today!
Commonly Asked HydraFacial Questions
Everyone's skin is unique and reacts differently to a HydraFacial. Typically, one treatment per month for about eight months is recommended to improve the appearance of fine lines and wrinkles, brown spots, and congested skin.
When you schedule an appointment with Blossom, we'll determine a proper treatment plan that's right for you and your skincare needs.
All areas of the body can be treated with a HydraFacial, but the most frequent areas are the face and neck. HydraFacials are safe for all skin types and skin concerns, unlike waxing and microdermabrasion. If you suffer from oily or dry skin, sensitive skin, or fine lines and wrinkles, this non-invasive treatment may be right for you.
To determine if a HydraFacial is right for you, call us today at (360) 584-9576 to discuss your options.
There is little to no downtime with any of our HydraFacial services. You may experience light redness in the treated area, but that will subside within a day or two. We recommend avoiding strenuous exercise or activities that result in sweating (so as not to re-clog your pores) and avoiding makeup for 24 hours.
Our expert estheticians will walk you through any aftercare instructions and answer any questions you may have post-HydraFacial.
Our HydraFacial Services
Experience the ultimate hydrafacial experience with our platinum service! Begin detoxification with our Lymphatic Drainage treatment and continue the hydrafacial to cleanse, extract, and hydrate the skin. We'll conclude the treatment with LED light therapy.
An invigorating treatment that includes all the essentials of the Signature HydraFacial while addressing your specific skin concern with a Booster of your choice. This treatment concludes with LED light therapy to further reduce the visible signs of aging.
Signature Hydrafacial
$199
Our Signature HydraFacial deeply cleanses, exfoliates, extracts, and hydrates the skin utilizing super serums filled with antioxidants, peptides, and hyaluronic acid.
Back Clarifying Hydrafacial
$299
Using the same technology as our Platinum, Deluxe, and Signature HydraFacial, the Back Clarifying HydraFacial is designed to deeply cleanse and extract impurities from the upper, lower, and middle back. This treatment is finished off with a purifying blue LED light therapy to activate the hydrating serum and produce stunning results.
Hydrafacial Perk Lip Treatment
$50
For those that suffer from excessively dehydrated lips, the HydraFacial Lip Perk is for you! We'll gently exfoliate the surface layer of your top and bottom lip to remove dead skin cells, leaving you with a smooth, kissable pout.
Hydrafacial Perk Eye Treatment
$60
Our eyes often indicate stress, lack of sleep, and aging, revealing fine lines and wrinkles earlier in life than we'd expect. With the HydraFacial Perk Eye treatment, we can brighten and refresh your outer eye area.
Hydrafacial Keravive Full Scalp Treatment
$600
A healthy scalp is the foundation for healthy hair. HydraFacial Keravive is a unique, relaxing 3-step treatment designed to cleanse, stimulate, and nourish your scalp and hair follicles for fuller, thicker, healthier-looking hair. This treatment includes an in-spa treatment and a 30-day take-home Hydrafacial Scalp Health Spray. Best results occur with a series of three treatments every four weeks. Price is per treatment.
Hydrafacial Keravive Partial Scalp Treatment
$300
Our HydraFacial Keravive treatment is a unique, relaxing 3-step treatment designed to cleanse, stimulate, and nourish your scalp and hair follicles for fuller, thicker, healthier-looking hair. This treatment is tailored for partial area treatment. Best results occur with a series of three treatments every four weeks. Price is per treatment.
Scalp Detox Treatment
$299
Hydrafacial's trade-marked Vortex Fusion technology fulfills multiple scalp needs including dryness and itchiness, oil irritation, clogged follicles and product build up. This relaxing, detoxifying treatment will cleanse and exfoliate the scalp while encouraging blood circulation which helps balance oil production on the scalp resulting in the healthiest environment for hair to grow! This treatment does not include the home care or booster kit.
This hydrafacial enhancement helps your lymphatic system as it experiences blockage after medical treatment or illness, frequently causing swelling and irritation of the skin. This enhancement can help skin conditions by brightening its appearance, and reducing puffiness, and can also help tone and firm up your skin.
Cleanse. Exfoliate. Hydrate. Repeat.
Clogged pores, wrinkles, and dark spots are a thing of the past with a HydraFacial from Blossom Spa Retreat. Proudly serving Olympia, WA, and the surrounding areas, our day spa can provide you with a more youthful appearance in just a few sessions. Treat everything from your lips, eyes, back, face, and even your hair—we have every HydraFacial treatment imaginable to breathe new life into your appearance.
If you're ready to make a change and feel more confident in your skin, contact us today to schedule an appointment.