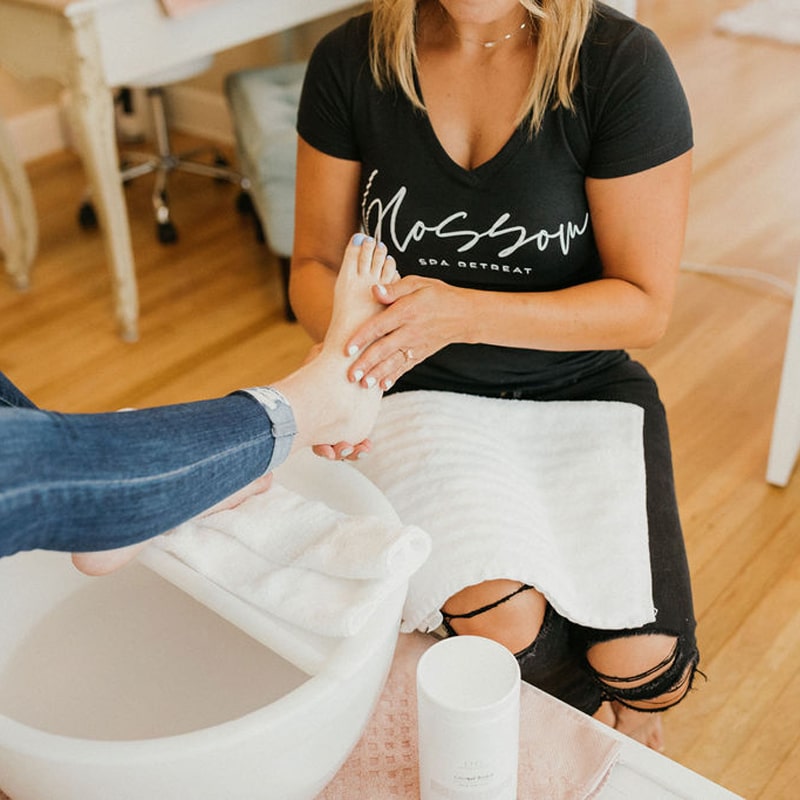 Next-level pedicure services
Pedicure Treatments in Olympia, WA
We can't physically walk a mile in your shoes, but we know your feet are probably tired and deserve a refresh. Blossom Spa Retreat's unparalleled pedicure services are designed to revive and rejuvenate your callused, blistered, and dry feet. From shellac gel pedis and paraffin wax treatments to warm foot soaks and cuticle maintenance, our pedicure services have been carefully crafted for eye-catching results every step of the way.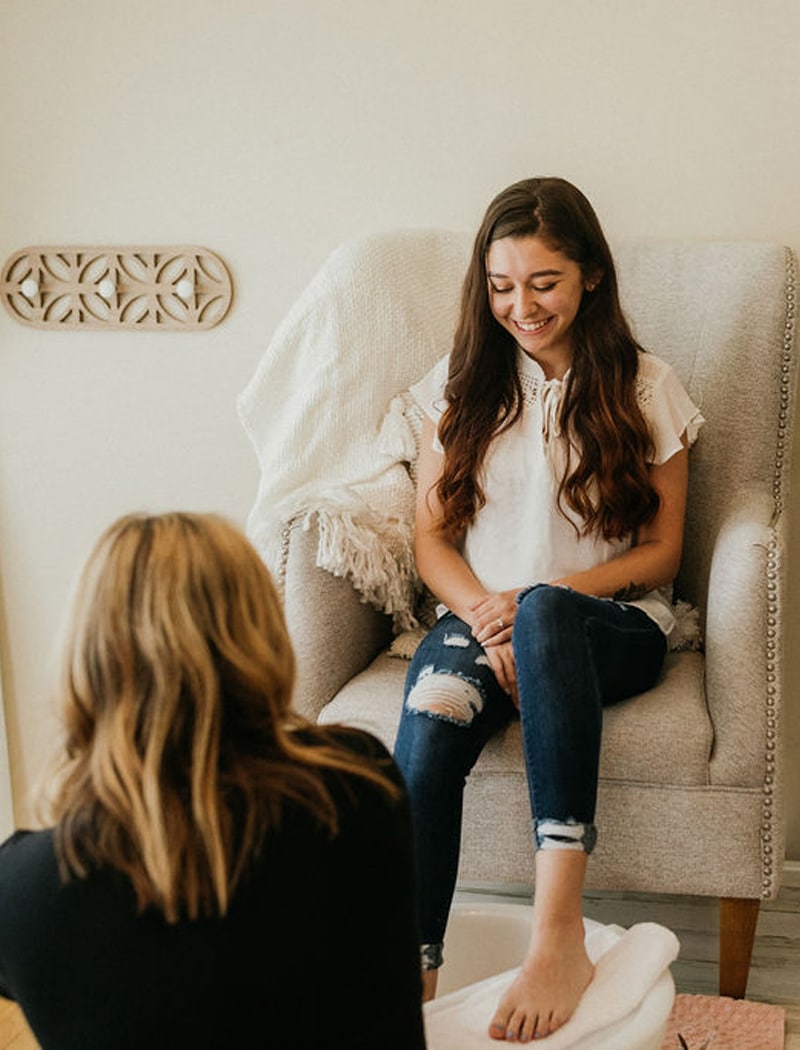 Give Your Feet Some Love
Enjoy a high-end pedicure experience with effective techniques and healthy products. At Blossom Spa Retreat, we deliver complete nail care, comfort, and relaxation. Whether you suffer from consistent ingrown toenails or struggle with flawless do-it-yourself polishing, our nail technicians create an unforgettable, restorative pedicure experience.
Sit back in our comfortable lounge chairs and enjoy pampering, one toe at a time. With extensive cuticle TLC, nail buffing and shaping, and aromatic sugar scrubs, our pedicures promote hydrated, healthy nails. We'll set the mood for a fully calming pedicure with the music of your choice and finish each treatment with a shea butter foot massage for ultimate relief. If your feet need extra love, contact Blossom Spa Retreat today to schedule your appointment.
The Benefits of Receiving a Pedicure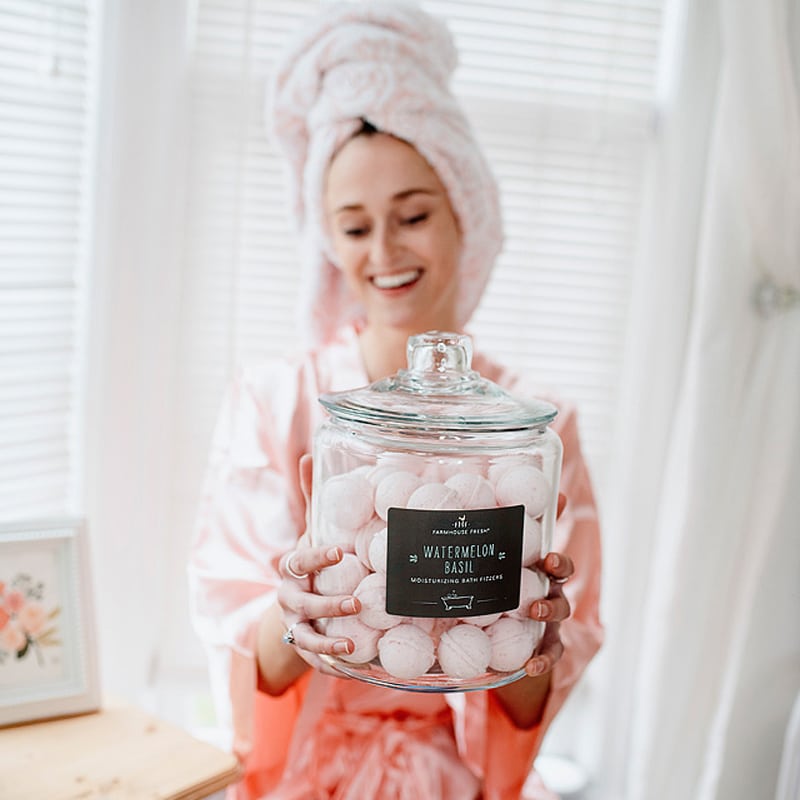 A Delightful Pedicure Experience
At Blossom, we believe that ingredients matter, which is why we are non-negotiable when it comes to which polish lines we use. We use a hybrid gel polish, so you aren't exposed to any unnecessary toxins and the polish isn't as hard on your nails. You'll find a large selection of gel and regular polish colors that are cruelty-free, organic/vegan, hypoallergenic, and free from reactive ingredients. With fast-drying technology and simple 3-step application processes, you'll have the longest-wearing pedicure you've ever experienced.
Using a Dazzle Dry gel polish that is free from harmful chemicals,  our nail technicians can create intricate and elaborate artwork right on your toes. From French manicures and gold foils to jelly-stamped flowers and hand-painted designs, you can feel confident the next time you head out on the town in open-toed shoes.
Pedicure FAQs
We ask that all our clients come to their pedicure appointment with bare toes if a Blossom manicurist didn't apply the gel directly. Due to the variety of gel polishes on the market, we cannot guarantee that we'll be able to remove your previous polish efficiently. If you have any type of gel polish on your toes, please mention this when booking your appointment.
Additional time and charges will be added to your service if we need to remove the gel polish.
We use the Magpie gel and CND shellac for our nail polish collections as well as the Dazzle Dry polish option. Each brand offers hundreds of colors, and our manicurists can assist you in selecting a color that best suits your personality or upcoming event attire.
The frequency at which you should receive a pedicure depends on a variety of factors. For those struggling to polish their nails and have aggressive cuticles, or dry skin, we recommend getting a pedicure once every three to four weeks. Our professionals will be happy to discuss a proper pedicure treatment plan for your specific needs.
The Blossom Spa Pedicure Services
This pedicure begins with a warm foot soak, cuticle TLC, and shaping—next, sugar scrub to reveal glowing, quenched skin. A shea butter massage will top off your getaway before you choose a Dazzle Dry Polish to coat the toenails.
Relax your tired feet with a fizzle soak before we scrub away dry skin on the balls of your feet and heels. Our manicurists will wrap your feet and legs in a warm steam towel with a hydrating treatment and finish the pedicure with a hydrating foot massage cream. The spa pedicure includes your choice of Dazzle Dry Polish.
Experience a luxury pedicure treatment with our shellac gel pedi. You'll receive a warm foot soak, cuticle trimming, and nail shaping before we apply a sugar scrub and shea butter massage. Finally, we'll apply your desired CND Shellac polish color (a blend of polish and gel) that will quickly cure with an LED light.
IBX is an intense treatment used to improve nail plate integrity under any gel polish coating. It is also used to target natural nail imperfections and weaknesses that prevent natural nails from growing long. This enhancement is applied prior to a pedicure.
Pedicure Add-Ons
Perfect Sense Paraffin
$22
Ideal for those who often get calluses and excessively dry skin, perfect sense paraffin wax offers a hydrating solution.
We'll soak cotton pads and wrap each nail using a liquid solvent to dissolve the shellac polish.
Upgrade your polish with a longer-lasting gel polish that takes minutes to dry under a UV light.
Choose from a variety of nail art options, including jelly stampers, chromes, glitter, stickers, foils, and hand-painted artwork. Prices may vary depending on the time it takes and what the nail art entails.
Exceptional Nail Health at Blossom Spa Retreat
Improve your nail health while expressing your personality with a pedicure from Blossom Spa Retreat. Our technicians understand the stress and strain your feet can see on a daily basis, and we aim to relieve your aching feet with calming foot soaks, sugar scrubs, and proper cuticle care. No pedicure at Blossom is anything less than the best, from our techniques to our products. See the difference our dedication to excellence makes—book your pedicure appointment today!