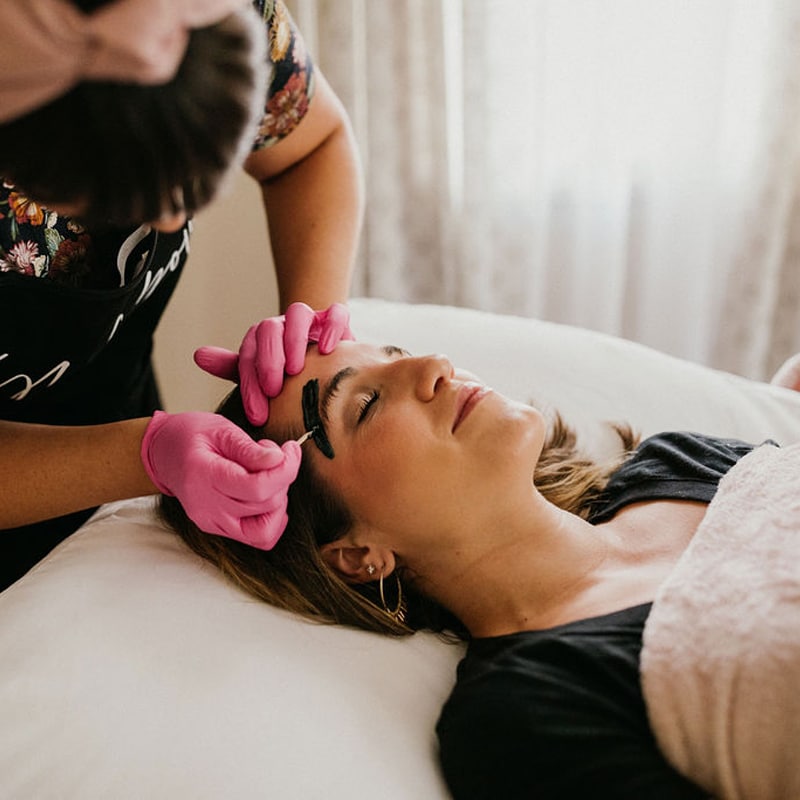 Tailored hair removal options
Waxing & Sugaring Services in Olympia, WA
Say goodbye to stubble, razor burn, and itchy, irritated skin with waxing and sugaring services at Blossom Spa Retreat. We understand that waxing and sugaring is a personal experience, and you may feel a bit nervous baring it all to one of our professionals. But don't worry. This is a judgment-free zone, filled with professional experts ready to eliminate those pesky, unwanted hairs. Whether you're looking for a smooth bikini line for an upcoming vacation or have more back hair than you'd like, Blossom is here to support your self-care routine!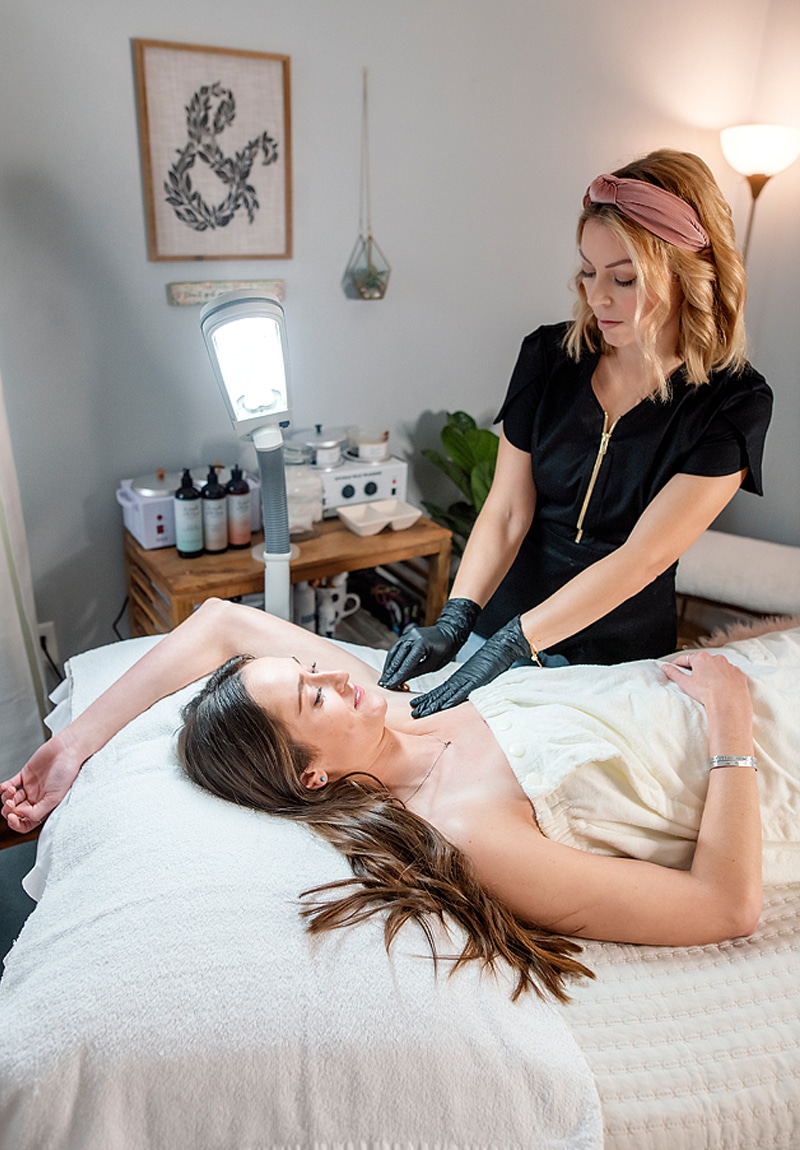 There's a Brazilian Reasons to Get Waxed
Walk into Blossom Spa Retreat with unwanted hair and leave feeling smooth and confident in a matter of minutes with our waxing services. Waxing is a form of hair removal that effectively removes hair from the root to provide you with a clean and hairless appearance. Kept at a low temperature to avoid burning your beautiful skin, our wax hardens once applied and is peeled off in a quick and efficient manner using a waxing strip.
Ideal for Brazilian waxes, underarms areas, and first-time waxers, our waxing services can remove coarse hairs that cause irritation and unwanted insecurities. There's nothing worse than finishing a shave, looking down, and noticing a lone hair just waiting to make friends—waxing eliminates this pesky nuisance.
The Benefits of Waxing & Sugaring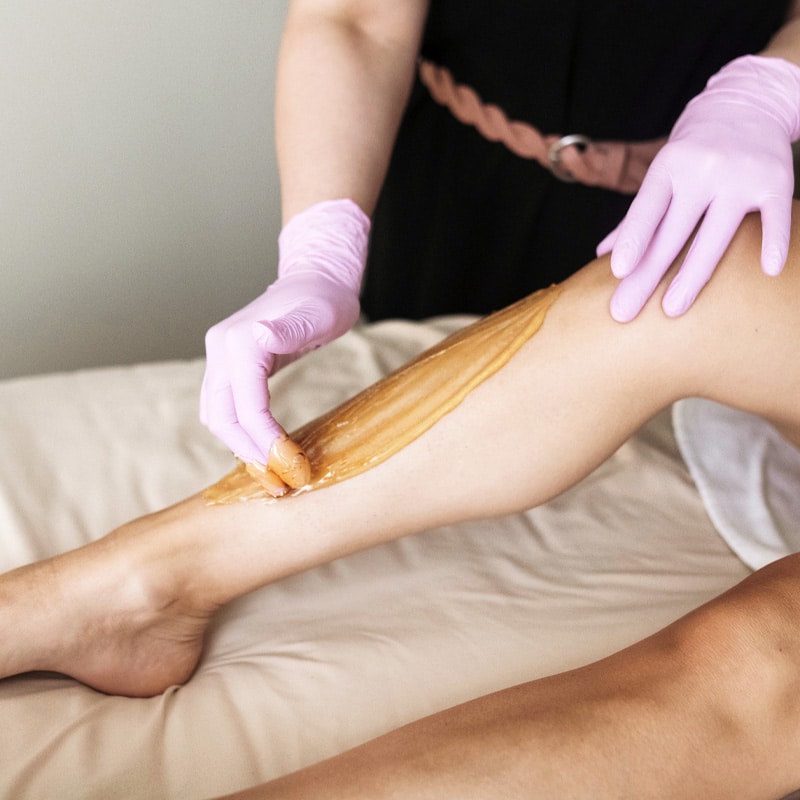 Smooth Skin is Always In With Sugaring
When you hear the term sugaring, you probably think of baking. Though we enjoy a good sugar cookie occasionally, we're talking about a hair removal method that's safe and effective for sensitive skin. Sugaring is a gel-like paste made up of lemon, sugar, and water that removes the hair from the root, making it especially effective for ingrown or curly hair.
Sugaring is a natural hair removal alternative that doesn't stick to the top layer of your skin, thanks to the assistance of a translucent powder that's applied before the application begins. The sticky, gel-like paste is applied to your desired treatment area against the hair growth grain, and the dried sugar is then pulled with the grain of the hair to prevent ingrown hairs and breakage, leaving you hair-free.
Frequently Asked Sugaring & Waxing Questions
Before your appointment, it's important to gently exfoliate the treatment area and avoid using lotions, sprays, or powders. We recommend growing your hair out for at least two to three weeks before your waxing or sugaring appointment for our aesthetician to remove the hair directly from the root.
Please keep in mind that we cannot perform a wax or sugar treatment on sunburned skin or if you have tanned your skin within 24 hours of treatment. If you have recently suffered sunburn or visited a tanning bed and have an upcoming appointment, please contact us to reschedule.
Additionally, waxing is NOT suitable for those persons using medically prescribed acne treatments, such as Accutane, Retin-A, Differin, AHAs or any other doctor prescribed acne medication. If you are using any retinols then discontinue use for a week before your service. Absolutely NO Accutane clients.
Results vary depending on the thickness of your hair and the rate at which your hair grows. Most who undergo a wax or sugaring appointment from Blossom Spa Retreat notice that results last anywhere from four to six weeks.
No, your hair growth will not increase after a sugaring appointment. In fact, you may experience slower and thinner hair growth after just your first appointment. Because sugaring and waxing remove the hair follicle at the root (instead of just the surface level, like shaving), it will take longer for hair to grow back.
Waxing & Sugaring Services
Everyone deserves to experience the hassle-free life of no longer having to shave unwanted hair from hard-to-reach areas. With our waxing and sugaring services, you can save time in the shower and more time doing the daily activities you love.
Full Face with Brow Wax
$65
(only available with wax)
The Supportive Wax & Sugaring Day Spa You Need
At Blossom, we strive to become the helping hand you didn't know you needed—the one who keeps your skin smooth and soft all year. Short, tall, skinny, large, coarse hair, fine hair, unique features, model status, and more, the professionals at Blossom know how to treat even the most stubborn of hair follicles. Let us become the hair removal partner that treats you right and provides long-lasting results.
Life is too short to be insecure about pesky unwanted hair. Trusting the professionals at Blossom Spa Retreat to handle your delicate areas with care is the best self-care you can do. If you're ready to embrace the Blossom lifestyle and feel confident in the nude, call us at (360) 584-9576 to schedule an appointment.