Resolves acne, aging, and pigmentation
DMK Enzyme Therapy in Olympia, WA
Every flower blossoms at a different pace. Think of your skin as a flower, blossoming into a clear, glowing complexion with DMK enzyme therapy. Other facial methods strip and peel the skin at the surface level, but with enzyme therapy, we're able to restore your skin from the inside out. Discover how each in-depth session can restore your skin and leave you feeling refreshed and rejuvenated.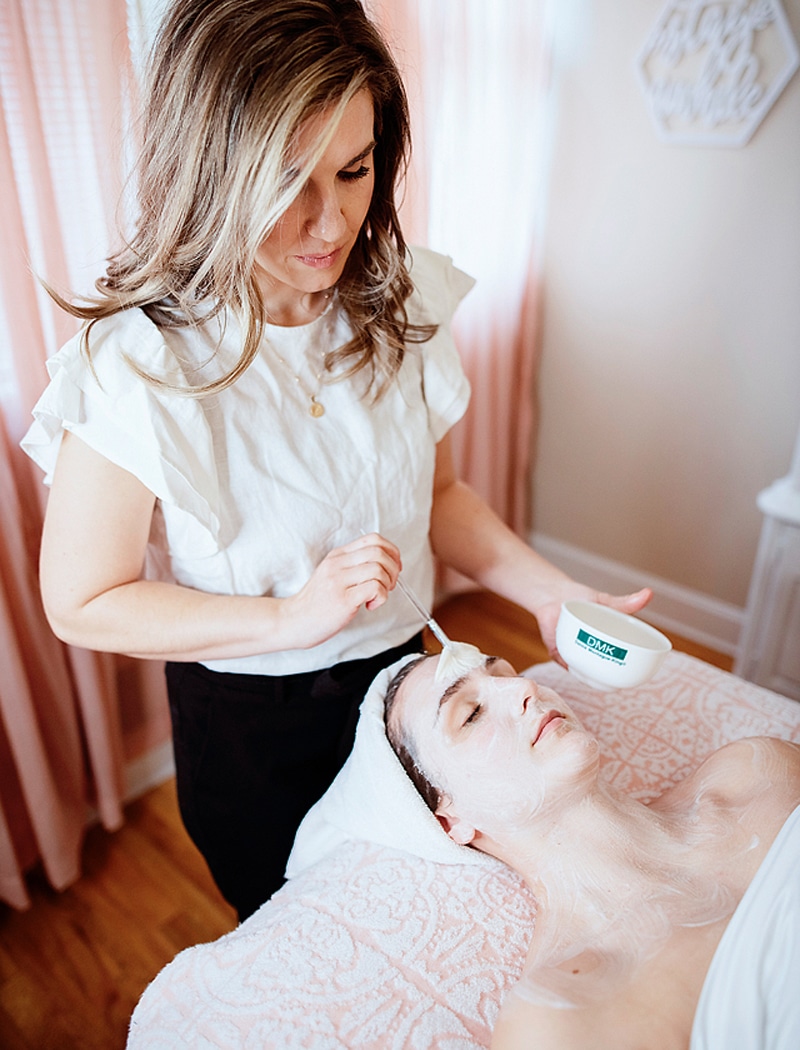 Remove. Rebuild. Protect. Maintain.
DMK enzyme therapy is unlike any other treatment on the market. It's a complete skin revision process that rebuilds and restores the healthy function of the skin at a cellular level. Consisting of three enzyme formulas for the face and neck, DMK enables optimal cell function by stimulating naturally occurring enzymes within the skin. This hard-setting face and body mask operates on a four-function basis: remove, rebuild, protect, and maintain.
Dead skin cell buildup can lead to dry skin, discoloration, and wrinkles. DMK removes these skin cells and rebuilds the living cells by providing protein, amino acids, and nutrients directly into the depths of your skin. In doing so, your cells stay alive longer and perform more optimally. Because DMK promotes healthy cell function, your skin will stay protected longer from the sun, free radicals, and other environmental factors that lead to premature aging.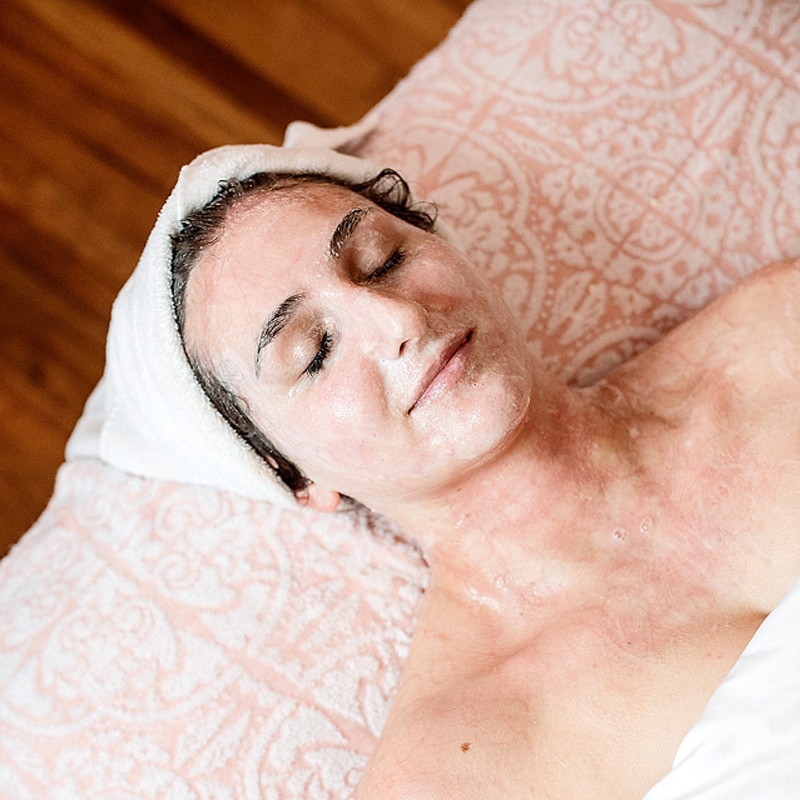 Maintain Your DMK Results
When you receive DMK enzyme treatments, your skincare process doesn't stop there. You'll be provided with at-home prescriptions to maintain your restorative results. Each at-home prescriptive is customized to your specific needs and will ensure even better results when you return for in-person treatments.
Ideal for those experiencing hyperpigmentation, signs of aging, and other common skincare concerns, DMK works deeper than any other facial on the market. At Blossom Spa Retreat, we recommend starting with a DMK treatment plan to kickstart your enzymes and graduate to other facial options to continuously maintain your results. Start your skincare journey by booking an appointment with Blossom in Olympia, WA, today!
Regenerate Your Skin with StemZyme™
StemZyme™ is the Ultimate Age Management Treatment that reduces the effects of impaired stem cell function. Effects include fine lines and wrinkles, sagging skin, uneven skin tone, discoloration, uneven texture, dullness, sallow complexions, enlarged pores, dry skin, and hyper-reactive skin.
StemZyme™ is beneficial for people with fine lines and wrinkles, sagging skin, uneven skin tone, discoloration, uneven texture, dullness, sallow complexions, enlarged pores, dry skin, hyper-reactive skin.
StemZyme™ Aids the Process of:
DMK Enzyme FAQs
DMK is not your typical facial. Once the enzyme treatment is applied, it will stay there for 45 minutes, hardening (feeling like cement) as time progresses. You must plan to remain still and calm as the enzymes work their magic as the mask hardens and tightens. You may feel a slight "pulsating" feeling on your face because of the mask tightening and blood flow coming to the surface of your skin. The last 15 minutes of the DMK mask are the tightest and may become slightly uncomfortable. We recommend our clients to plan to have a podcast, audiobook, or we can play your favorite music to help you relax and settle in. By continuing enzyme treatments, you actually start to get used to the sensation.
Capillaries are tiny blood vessels that transport blood, nutrients, and oxygen to cells in your organs and body system. With DMK enzyme therapy, we're stimulating the circulatory system by adding pressure to the capillaries. Once your treatment is complete, your capillaries will dilate, creating a plasmatic effect or "map" of the blood vessels.
With this plasmatic effect, we're able to see imperfections and oxygen levels beneath the skin's surface. We're then able to note areas that received fresh oxygenated blood and other areas that require more focus and attention during your next treatment.
Anyone who wants to make a drastic skincare change and is committed to following the treatment plan is a candidate for DMK. This isn't just a one-time-a-year facial; it requires at least four treatments in order to see dramatic results. 80% of your results will be derived from your dedication to the home-care plan put in place.
If this sounds like something you may be interested in, contact Blossom Spa Retreat today to learn more.
Our DMK Enzyme Therapy Services
The most important thing to note prior to receiving any of the DMK Skin Revision Treatments below is that the services are not a la carte. Meaning that each patient starts at Level 1 with treatment and progresses naturally up to level 4.
Transdermal Nutrition Treatments
$149
Utilizing the unique DMK delivery system to apply active ingredients to the target area, this nutrition skin treatment is designed as a 50-minute service. It can help address multiple conditions such as dehydrated, congested, sensitive or reactive skin. It is a perfect treatment for anyone who might be new to DMK products but aren't sure if they have time for a full enzyme treatment program. A complimentary consultation is included with this treatment.
Combine DMK Enzyme therapy with stem cell therapy. StemZyme™ consists of five treatments, including 50 days' worth of homecare and supplements. Treatments must be booked every two weeks, and additional DMK prescriptions may be required.
There is no pre-exfoliation for this treatment and instead we use quick peel or cryo pro x + Enzyme 1.
Pro Alpha 1 or Prozyme + Enzyme 1
Pre exfoliation + Enzyme 1, 2, and 3
Alkaline Wash + Enzyme 1 or Double Exfoliation + MultiEnzymes
DMK RP/Pro Alpha Peel
Call for Pricing!
RP peels away dead, redundant skin while it works to help rebuild stronger, healthier functioning cells to revise the root cause for the patient's condition. Six Layer Peel is a non-invasive peel procedure for those wanting to reveal younger complexion. In just 10 days, old, damaged skin tightens and peels away to reveal younger looking, smoother, optimally functioning skin. This is great for thick skin, uneven texture, wrinkles, fine lines, pigmentation, sun damage and scarring.
Treatments include: Day One Peel Application, Day Two Peel Application, Day Five Lift Off Treatment, Day 10 Lift Off Treatment
Your skin does have to be prepped before you undergo this treatment and we recommend at least the enzyme level 2 and level 3 treatments.
A Unique Facial Experience at Blossom Spa Retreat
Solve skincare concerns from the inside out with DMK enzyme therapy. In four to six treatments, you can experience glowing, unblemished skin that leaves you feeling confident and secure. Our estheticians will work with you to determine the best course of action for your needs and guide you every step of the way, from at-home care to in-person sessions. Schedule a consultation with Blossom Spa Retreat of Olympia, WA, and detoxify your complexion!