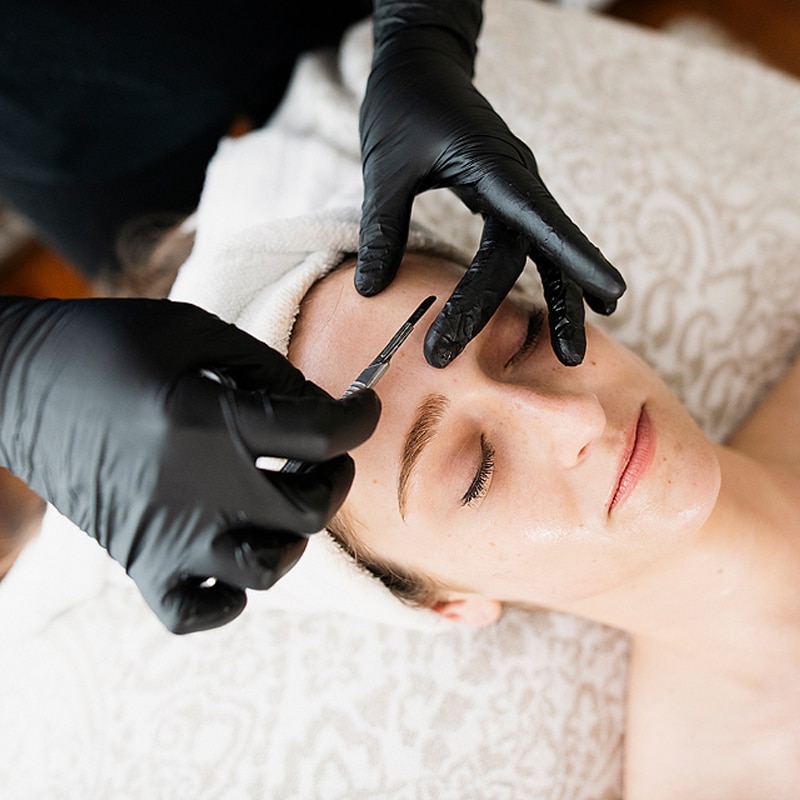 Beneficial treatments, facials, and more
Skincare Services in Olympia, WA
When it comes to your skincare routine, you should always make room for professional-grade products and services. Those hard-to-reach areas, signs of aging, and dehydration can take a toll on your confidence. But with results-driven skincare services like facials, acne solutions, dermaplaning, and more from Blossom Spa Retreat, you can showcase a smooth, bright, and youthful complexion.
Let Your Skincare Routine Blossom
As we age, our skin begins to lose the elasticity and collagen it once had when we were young, resulting in a lackluster appearance and diminished confidence. With luxury facials and lymphatic drainage treatments, we can tackle those stubborn areas and reduce the appearance of inflammation and unwanted blemishes.
If you're looking for a way to reduce wrinkles, rehydrate, and firm up sagging skin, our facial cupping, dermaplane treatments, and Procell microchanneling are the perfect solution. These rejuvenating remedies gently exfoliate your skin, remove dead cells, reduce stretch marks and wrinkles, and even your skin tone—revealing a brighter, more refreshed complexion. At Blossom Spa Retreat, you can feel as fresh as a cherry blossom with our various skincare services designed with your needs in mind.
Check Out the Benefits of Proper Skincare
Common Skincare Questions
Based on your skin type—oily, dry, sensitive—and the problem areas you want to address, the estheticians at Blossom can indicate a proper facial treatment for you through our variety of customized treatments tailored to each patient's needs.
Contact us today to discuss skincare treatment options if you're questioning which facial will benefit your skin.
Microchanneling creates tiny perforations in the skin that initiate a natural healing response. These tiny perforations in the skin promote collagen and elastin growth, resulting in firmer, healthier skin. We combine microchanneling with our cellular renewal serum and healing accelerator to enhance your results. These serums are formulated to trigger the collagen-producing cells in your body to go into overdrive and create new healthy skin.
Procell Microchanneling can improve the appearance of fine lines and wrinkles, acne scars, age spots, and stretch marks in a series of treatments. To learn more about this innovative new skincare service, call Blossom Spa Retreat at (360) 584-9576 today.
There are a variety of different skincare products available on the market today and even more ways in which you can treat your skin with kindness. Starting with a simple morning and night routine—washing with a gentle cleanser and applying a moisturizer to your face and neck—you will notice slight changes to your skin tone. Additionally, protecting your skin from UV rays with sunscreens can help reduce signs of fine lines and wrinkles, and age spots.
At Blossom, we recommend receiving a professional-grade facial, dermaplane treatment, or other skincare service at least once a month in order to maintain healthy, glowing skin. Contact us today to discuss your options and find a routine that works for you.
Our Skincare Services
Procell Microchanneling
$329
Reduce fine lines, wrinkles, acne scars, age spots, and stretch marks with our Procell microchanneling service. Combined with cellular renewal serums, microchanneling delivers high-powered results after just a few sessions.
This 60-minute European-style facial involves cleansing, exfoliating, and extracting skin impurities. We'll apply a liquid moisturizing masque and toner cream to provide added skin protection.
Our algae-based jelly peel-off mask is a cooling facial designed to improve the glow of your skin in just 60 minutes. As the jelly mask lowers the temperature of your skin by 10 degrees, you'll begin to notice reduced puffiness and a firmer, more toned effect on the skin.
Dermaplaning removes the dead skin cells and peach fuzz from your face using an esthetician-grade, sterile blade. This effective exfoliation method helps reduce the appearance of fine lines and wrinkles, evens skin tone, and decreases minor breakouts associated with congested pores.
Dermaplane & Jelly Mask Facial
$149
During this 75-minute facial, you'll receive a full Dermaplaning treatment—the removal of dead skin cells and peach fuzz—to cleanse and exfoliate the skin. We'll finish the treatment with our cooling algae jelly mask to calm and hydrate the skin.
This treatment is not a facial. We will strictly cleanse the skin and remove dead skin cells and peach fuzz from your face and neck. This service will be completed with a moisturizing cream to soothe the skin.
Facial Treatment Enhancements
Feel energized, less stressed, and more concentrated with a Gua Sha enhancement. This rolling technique helps your body rid itself of toxins while improving the microcirculation of the facial blood vessels.
Facial Cupping Massage
$30
Rejuvenate your skin with our facial cupping enhancement. Cupping is an alternative therapy using suction cups to stimulate skin and muscles. By incorporating this massage technique into your face, our professionals are able to relax muscle tension, strengthen your skin elasticity, and stimulate collagen production.
Dermaplaning is one of the most effective ways to exfoliate and prepare your skin for a facial. Add this treatment to any of our facial options and receive a deeper, more noticeable result.
Hot Oil Scalp Treatment
$25
There's no better feeling of relaxation than a scalp massage. Add this service to any of your facials and receive hot oil and towels applied to your scalp accompanied by a scalp massage.
Perfect Sense Paraffin
$22
Enjoy the most powerful heated moisturizer available for your hands or feet. The perfect sense paraffin treatment is ideal for dry skin, eczema, psoriasis, and arthritic joints.
Customize your facial and soothe your skin with a jelly mask add-on. We have a variety of different jelly masks that suit your skincare needs to calm and cool your skin after a facial treatment.
This enhancement helps relieve your lymphatic system as it can typically experience blockage after medical treatment or illness, causing swelling and irritation of the skin.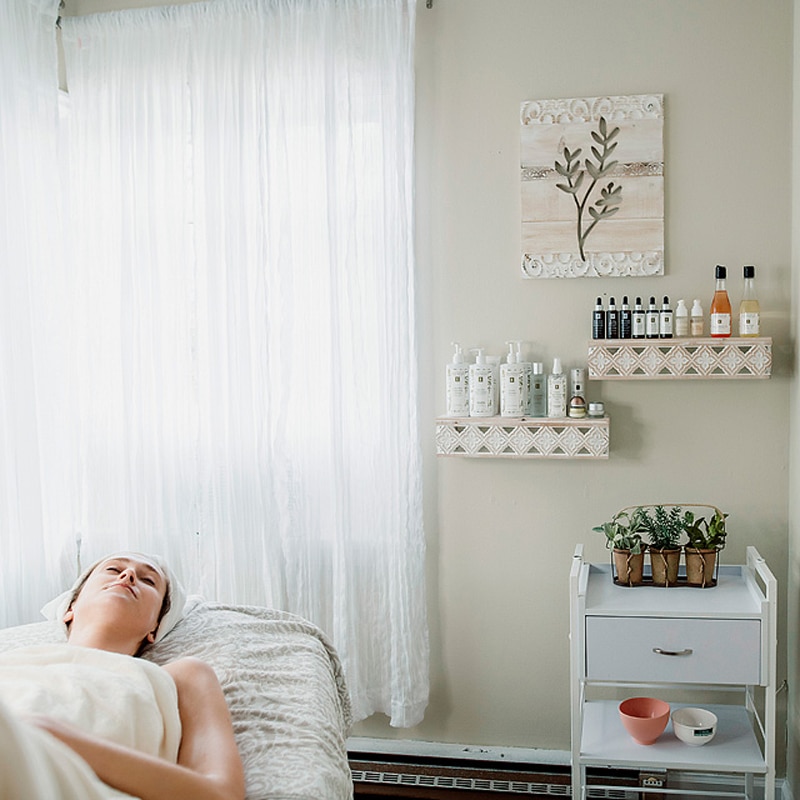 Take Part in Our Acne Bootcamp
Get clear, healthy skin in as little as three to six months with our Face Reality Acne Bootcamp! Acne is an inherited disorder of the pores, pores that shed skin cells much faster than normal. Normal pores shed about one layer of dead skin cells per day and the body just can't keep up. This forms the microcomedone, the beginning of all the acne. Taking up to 90 days, it turns into blackheads or congestion under the skin; or if bacteria is present, it turns into inflamed pimples or pustules and maybe even cysts. With our acne products and treatments, we can control the outbreak and stop new acne from forming.
The acne specialists at Blossom will conduct a thorough skin analysis and customize an in-person treatment plan and a home care regimen. This bootcamp considers your acne type, skin type, skin color, skin sensitivity, and the environment when determining proper treatment. You'll be expected to keep up with your at-home schedule twice a day and will have follow-up appointments every two weeks to assess your progress.
Our Acne Bootcamp Program
Once your acne regimen and treatment plan has been put into place, this is the treatment option you would receive on a recurring basis.
Acne Treatment & Consult
$175
The ultimate money and time saver is our acne treatment and consultation. We'll go over a treatment plan—including specific foods and stressors to help diminish acne—and then we'll start your series in person that same day.
During this consultation, we'll examine your skin and develop a skincare regimen and treatment plan that best suits your needs.
Virtual Acne Consultation
$75
We understand finding time for an in-person consultation can be difficult, so we created a virtual acne consultation to simplify things. During this call, we'll discuss various treatment options to limit future breakouts and symptoms.
Great Skin Doesn't Happen By Chance. It Happens By Appointment
Proper skincare starts with knowledge and education. At Blossom Spa Retreat, we make it our mission to educate our clients about our services and the results they can expect. From facials and dermaplaning to gua sha and acne bootcamp, we've designed our skincare treatments to strengthen your elasticity, boost collagen production, and leave your skin feeling smooth and glowing. Book an appointment with Blossom today to get started.