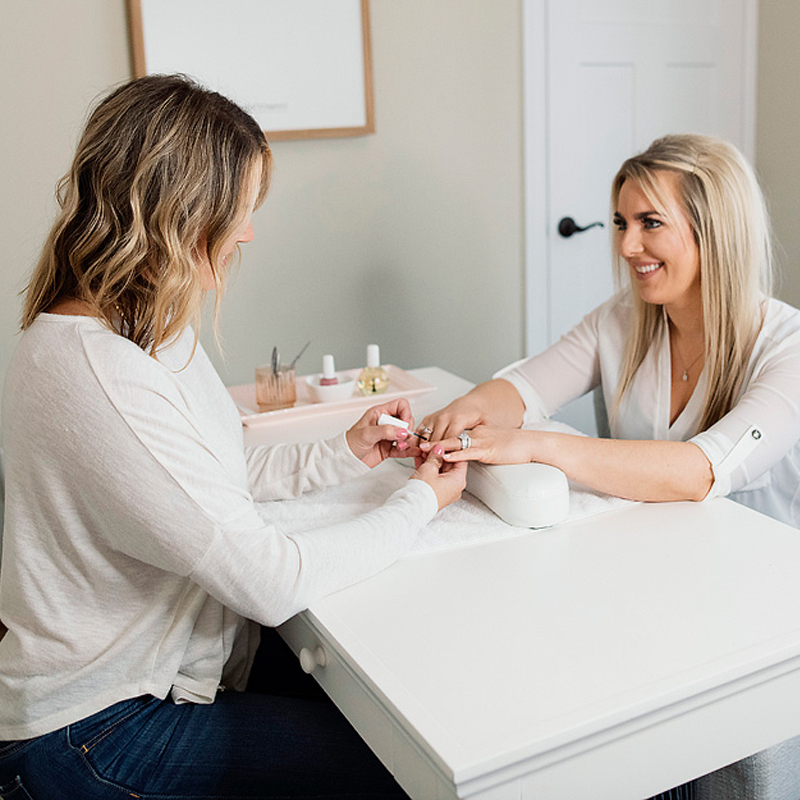 Elevate your day
Marvelous Manicures in Olympia, WA
Any manicure is focused first on relaxation and rejuvenation. But an excellent manicure is also about perfection—it's gorgeous, glamorous, and made to last. At Blossom Spa Retreat, we've perfected the art of manicures, and we guarantee you'll leave feeling fresh and ready to impress. From high-quality shellac gel manis to spa manicures designed to pamper you from your wrists to your fingertips, we have everything you need to look and feel flawless.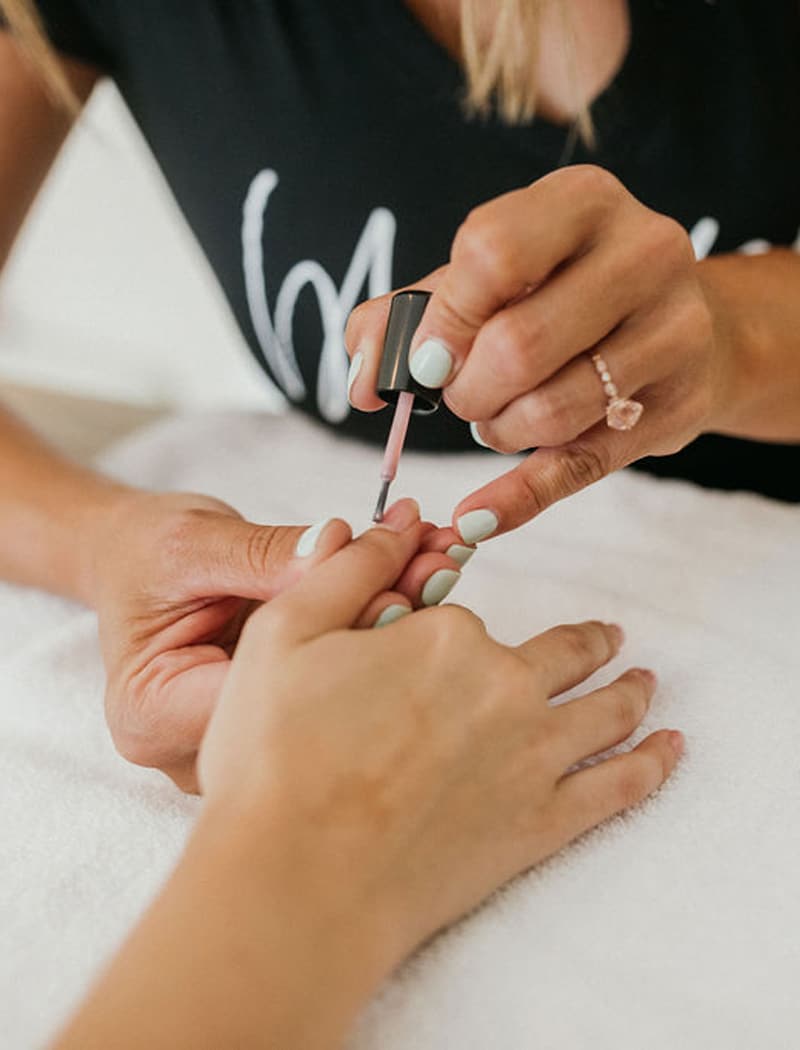 An Elevated Nail Salon Experience
If you've been searching for an elevated, boutique nail salon experience, Blossom Spa Retreat was made for you. Our studio was built as a sanctuary where clients can escape the everyday and indulge in much-deserved peace and tranquility. We strive to offer a space where you feel beautiful, empowered, and inspired and get exactly the long-lasting results you deserve.
Our highly skilled nail technicians keep their fingers on the pulse of the latest trends and techniques in the beauty industry so they can deliver your perfect manicure every time. We offer extensive nail services, including gel polish, Dazzle Dry lacquer, nail art, and spa manicures. If you're ready to be dazzling, contact Blossom Spa Retreat to schedule your nail appointment today.
The Benefits of a Manicure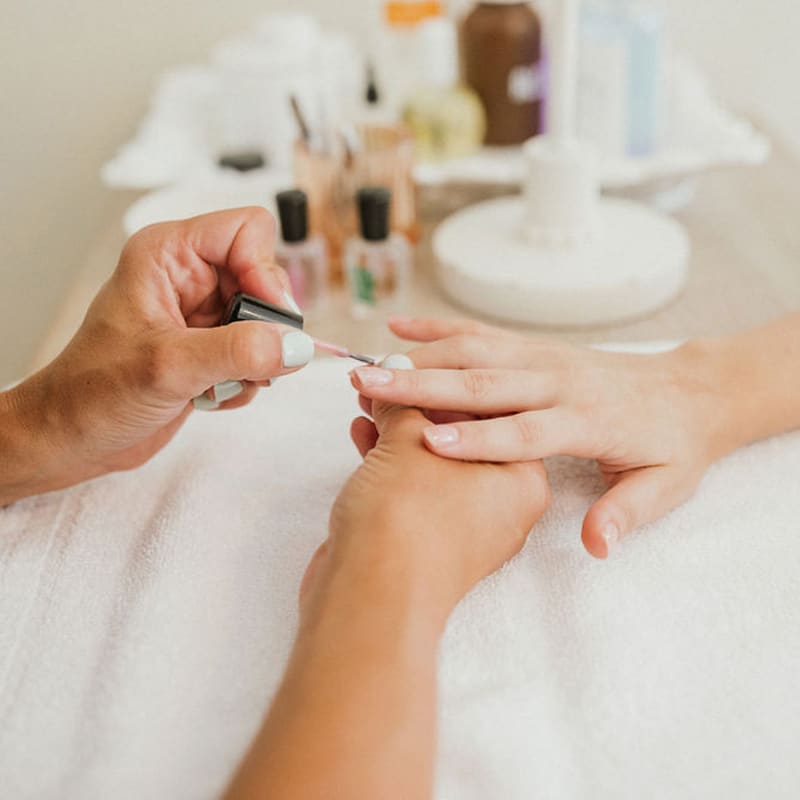 Only the Best Nail Products
Our team believes in total wellness, which means using only products with ingredients we can trust. That's why we use Magpie and CND Shellac systems, which are formulated with high-quality, cruelty-free, and vegan ingredients. These products offer designer color, long-lasting wear, and stunning results. With these systems, the possibilities for trendy and timeless nails are truly limitless.
In addition to these trusted brands, we also focus on offering spa-quality add-ons that make your visit that much more special. From paraffin wax treatments to rehydrate dry hands to Dazzle Dry, a four-step, non-toxic nail care system, we're always finding the latest ways to make your manicure experience marvelous. Treat your nails and skin to the best in beauty care with Blossom Spa Retreat.
Frequently Asked Manicure Questions
Our CND Shellac dries immediately with an LED light and lasts up to two weeks. It's possible to get more wear out of your manicure depending on how well you maintain your nails and the work you do with your hands. The Dazzle Dry nail polish service also has the long lasting performance of a gel that goes on like a polish!
To learn more about which gel polish treatment is right for you, contact Blossom Spa Retreat at (360) 584-9576.
We ask that all our clients come to their manicure appointment with bare nails if a Blossom manicurist didn't apply the gel directly. Due to the variety of gel polishes on the market, we cannot guarantee that we'll be able to remove your previous polish efficiently. If you have any type of gel polish on your nails, please mention this when booking your appointment.
Additional time and charges will be added to your service if we need to remove gel polish applied by a nail salon other than Blossom.
Gel polish will not harm your nails as long as you apply and remove it correctly. If your gel polish starts to peel, try to avoid picking at it further, as you'll also peel away part of your natural nail, leaving it thin and weak. Instead, schedule an appointment with one of our Blossom manicurists to remove the gel polish properly and reapply a new color.
The Blossom Manicure Options
The Blossom gel manicure includes extensive nail shaping and grooming, cuticle TLC, hand massage, and a CND Polish of your choosing.
Our Essential Manicure includes cuticle maintenance, nail shaping, and a moisturizing hand massage. Additionally, we'll complete the service with our Dazzle Dry, a four-step performance polish. This system delivers the same high performance as a gel polish without the use of harsh chemicals, UV light, or damage to the natural nail.
Elevate your nails with our spa manicure. This treatment includes cuticle maintenance, nail shaping, exfoliation, and a hand mask with hot towels. We'll complete your experience with a moisturizing hand massage and your choice of Dazzle Dry polish. Add on shellac polish for an additional $10
Add strength, protection, and longevity to your natural nails and additional staying power to your nail color with a gel overlay. You'll first experience a safe, relaxing manicure that includes cuticle care, nail shaping, and massage. Next, your nail professional will perfect and enforce your natural nail with a strong, clear gel enhancement. Finally, your nails will be finished with a fabulous CND Shellac color of your choosing.
Revive nails with a fortifying Dazzle Dry lacquer refresh. Existing polish will be removed, nails will be re-shaped and lightly buffed, then finished with Dazzle Dry's signature four-step nail care application. You must have had a Dazzle Dry manicure within two weeks to receive this service.
Manicure Add-Ons
Perfect Sense Paraffin
$22
Ideal for those who often get calluses and excessively dry skin, perfect sense paraffin wax offers a hydrating solution.
We'll soak cotton pads and wrap each nail using a liquid solvent to dissolve the shellac polish.
Upgrade your polish with a longer-lasting gel polish that takes minutes to dry under a UV light.
Choose from a variety of nail art options, including jelly stampers, chromes, glitter, stickers, foils, and hand-painted artwork. Prices may vary depending on the time it takes and what the nail art entails.
IBX is an intense treatment used to improve nail plate integrity under any gel polish coating. It is also used to target natural nail imperfections and weaknesses that prevent natural nails from growing long. This enhancement is applied prior to a manicure.
Find Perfection at Your Fingertips
At Blossom Spa Retreat, we're dedicated to being a space where perfection meets pampering. Our sophisticated studio is your retreat, where you'll find only the highest quality nail polishes, spa products, and other beauty services. When you're ready for nails that make a statement and a manicure experience that speaks for itself, reach out to us to schedule your appointment.